Swaffham Museum
History Group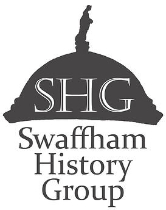 Swaffham History Group meets monthly at the Museum. It was formed in 2008 as a non-profit making group to undertake original research into aspects of Swaffham's history and also to work with other organisations and individuals with similar aspirations. This is, where appropriate, in liaison with Swaffham Museum Ltd.
To date we have produced a best selling book published in 2012 by Halsgrove ("The Book of Swaffham") after we were asked to undertake the task by Swaffham Museum. Since then the Group has published 14 booklets on the history of the town's old pubs and inns, and another telling the story of "Swaffham Brewery". Our current project looks at the history of some of the friendly/benevolent societies which were originally formed to give financial aid to their individual members before the 'Welfare State'. Four booklets are currently on sale in the museum shop: The Swaffham Gilds which were active during medieval times; the Masonic Lodge of Swaffham which started in 1764; The Ancient Order of Foresters which was formed in 1841; and The Independent Order of Oddfellows, also started in Swaffham in 1841. Several more organisations are being researched at the present time.
All publications are available for purchase in the museum shop.
Join Us
We meet in the Museum every 2nd Monday of the month from 2pm to 4pm. No membership fee. A small charge made for refreshments.
Contact us
For details of membership and any other information please contact us on 01760-724470 or email littlebethany2@yahoo.co.uk