History Group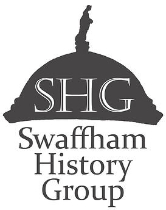 Swaffham History Group meets monthly at the Museum. It was formed in 2008 as a non-profit making group to undertake original research into aspects of Swaffham's history and also to work with other organisations and individuals with similar aspirations. This is, where appropriate, in liaison with Swaffham Museum Ltd.
We will shortly be publishing our 25th booklet on aspects of Swaffham's history, this time on the subject of weather. Our 24th booklet was recently added, on The Pedlar of Swaffham, exploring myths and legends from all over the world with a similar theme.
Previous booklets have been 14 on the town's old pubs and inns, 1 on the Brewery, 4 on local charities, and 4 on public services - fire, water, police and Post Office. All are available from the Museum shop.
Join Us
We meet in the Museum every 2nd Monday of the month from 2pm to 4pm. No membership fee. A small charge made for refreshments.
Contact us
For details of membership and any other information please contact us on 01760-724470 or email littlebethany2@yahoo.com