The Shop
The Museum Shop is well-stocked with mementos of the museum, Swaffham and beyond, and there is a generous selection of cards and postcards. We also sell locally made craft items, honey and preserves.
Visitors and local residents will find a wide range of road and footpath maps for those wishing to explore the area more thoroughly.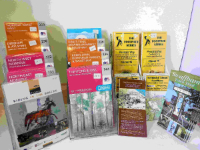 The shop also stocks articles and books by local authors, the Museum and The Swaffham History Group. New in September 2021 are two books on Howard Carter.
We also have a range of second hand paperback books at a very reasonable price.